Miniature Thrust Ball Bearings
Miniature thrust ball bearings are also called miniature thrust bearings,it is one of the classifications under thrust ball bearings.It is one of particular separable ball bearings, they are composed of shaft washer,housing washer and steel balls with cage. And shaft washer is designed to fix the shaft, and housing washer is designed to fix the parts outside the shaft. Usually the material for two washers and balls are chrome steel, and the material for cage is brass or stainless steel. If longer corrosion resistance is needed, stainless thrust bearings is a good choice, the material for two washer,balls and cages are stainless steel(440 C). And miniature thrust bearings with hybrid ceramic balls are also pop for applications.
Compare with common radial ball bearings,miniature thrust ball bearings can not support too much of radial load as radial ball bearings,miniature thrust ball bearings is designed only for axial or side loads.
Usually,miniature thrust ball bearings and stainless thrust bearings are widely used in crane hook, vertical water pump, vertical centrifuge, Jack, low-speed reducer which only need one side of axial load and low speed.
Zhangzhou Runstar Bearings Manufacturing Co.;Ltd is a professional miniature thrust ball bearings manufacturer since 2007, Runstar's Miniature thrust ball bearings start with bore size 2mm to 10mm, they are divided into two series according to the difference of raceway. They are FM series(with a groove as raceway) and F series(without a groove as raceway). Customized miniature thrust ball bearings are accepted in Runstar. All Runstar's Bearings are strictly controlled under ISO9001:2015.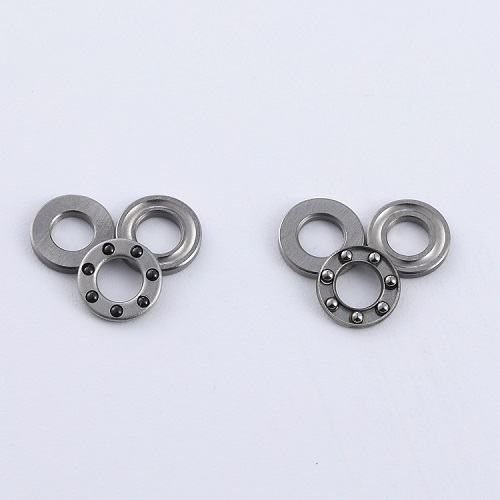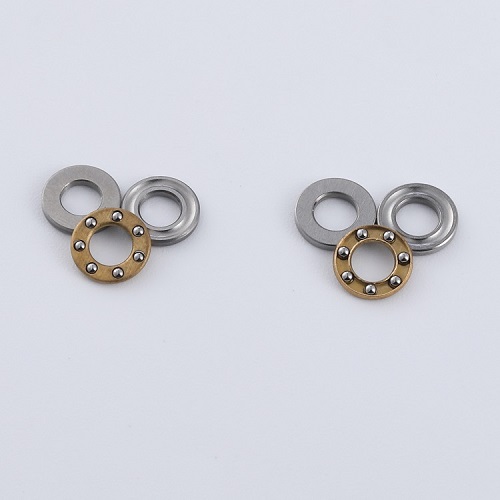 | Part Number | Raceway type | bore diameter of shaft washer(d) | outer diamter of housing washer(D) | thickness(H) | Balls Qty/pc | Balls Size/mm | Weight/g |
| --- | --- | --- | --- | --- | --- | --- | --- |
| F2-6 | flat raceway | 2 | 6 | 3 | 6 | 1 | 0.6 |
| F2.5-6M | groove raceway | 2.5 | 6 | 3 | 6 | 1.2 | 0.8 |
| F2.5-7 | flat raceway | 2.5 | 7 | 3.5 | 6 | 1.2 | 0.9 |
| F2.5-7M | groove raceway | 2.5 | 7 | 3.5 | 7 | 1.3 | 0.8 |
| F3-6M | groove raceway | 3 | 6 | 2.8 | 6 | 1 | 0.85 |
| F3-8 | flat raceway | 3 | 8 | 3.5 | 6 | 1.588 | 0.6 |
| F3-8M | groove raceway | 3 | 8 | 3.5 | 6 | 1.588 | 0.9 |
| F4-8M | groove raceway | 4 | 8 | 3.3 | 7 | 1.3 | 0.9 |
| F4-9 | flat raceway | 4 | 9 | 4 | 6 | 1.588 | 1.5 |
| F4-9M | groove raceway | 4 | 9 | 4 | 6 | 1.588 | 1.2 |
| F4-10 | flat raceway | 4 | 10 | 4 | 6 | 1.588 | 2 |
| F4-10M | groove raceway | 4 | 10 | 4 | 6 | 1.588 | 1.5 |
| F5-10M | groove raceway | 5 | 10 | 4 | 7 | 1.588 | 1.6 |
| F5-11 | flat raceway | 5 | 11 | 4.5 | 7 | 1.588 | 2.4 |
| F5-11M | groove raceway | 5 | 11 | 4.5 | 7 | 1.588 | 1.9 |
| F5-12M | groove raceway | 5 | 12 | 4 | 7 | 1.588 | 2.1 |
| F6-12 | flat raceway | 6 | 12 | 4.5 | 8 | 2 | 2.5 |
| F6-12M | groove raceway | 6 | 12 | 4.5 | 8 | 2 | 2.2 |
| F6-14M | groove raceway | 6 | 14 | 5 | 8 | 2.381 | 3.5 |
| F7-13M | groove raceway | 7 | 13 | 4.5 | 9 | 2 | 2.6 |
| F7-15 | flat raceway | 7 | 15 | 5 | 8 | 2.5 | 4.4 |
| F7-15M | groove raceway | 7 | 15 | 5 | 8 | 2.5 | 4.3 |
| F7-17M | groove raceway | 7 | 17 | 6 | 8 | 2.381 | 6.5 |
| F8-16 | flat raceway | 8 | 16 | 5 | 9 | 3 | 5 |
| F8-16M | groove raceway | 8 | 16 | 5 | 9 | 3 | 4.5 |
| F8-19M | groove raceway | 8 | 19 | 7 | 8 | 3.175 | 9.1 |
| F9-17 | flat raceway | 9 | 17 | 5 | 10 | 2.381 | 5.1 |
| F9-20M | groove raceway | 9 | 20 | 7 | 8 | 3.175 | 9.9 |
| F10-18 | flat raceway | 10 | 18 | 5.5 | 10 | 2.381 | 6 |
| F10-18M | groove raceway | 10 | 18 | 5.5 | 10 | 2.381 | 5.4 |